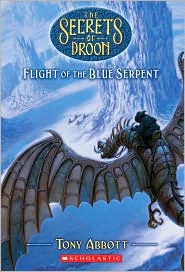 Book Jacket
Eric and his friends are headed to Droon's far north, a forbidding wasteland of ice and snow. There they seek the truth about a mysterious treasure--a snowflake with magical powers that fell to the earth from a strange, flying blue serpent.
The kids' journey is filled with danger, for Ko will stop at nothing to get the treasure. And every step north brings them closer to fulfilling a terrifying prophecy that could change the future of Droon forever...
Review
This is the book that was chosen for our March book club for 3-5 graders. I haven't read any of the other
Secrets of Droon
series, which was a huge disadvantage while reading
Flight of the Blue Serpent
. Despite the confusion that inevitably occurs when plopping into the middle of a series, the 33rd set of adventures were plenty entertaining.
I only got to read about a the northern part of Droon, but it was enough to convince me that Abbott has an awesome imagination! The frozen wasteland actually made me want more snow (I know, I know, please don't hate me). But really, if we could all bundle into furs and travel by motorized sleds, wouldn't a snowland be totally awesome? The answer is yes.
The villians Eric and his friends face are Nesh warriors, skeletal monsters made of icicles. They break off their various parts and throw them at people! So cool. And terrifying, I'm sure.
I didn't understand all the background and mythology, but if there's one thing I've learned from reading fantasy, it is this: Don't ignore prophecies! They always come true, and usually in the least expected way. Galen stopped worrying too soon, and now I might never know what happens to Eric...unless I pick up the next book. Which honestly, I probably won't. Maybe someone at the book club can tell me how the series ends.
A great book (and I'm assuming, series) for younger readers, but not exactly a world in which I'm willing to invest more time.
Three out of five
blue snowflakes.
Release Date: October 2008
Reading Level: Grade 3+
Where In Dunlap Public Library's Collection: J ABB