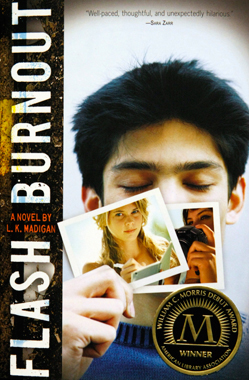 Book Jacket
Click.
Saturated self-portrait: Blake, nice guy, class clown, always trying to get a laugh, not sure where to focus.
Click.
Contrast. Shannon, Blake's GF. Total. Babe. Marissa, just a friend and fellow photographer. Shannon loves him; Marissa needs him. How is he supposed to frame them both in one shot?
Review
I loved this book! It was so refreshing to read a story about a teenage guy who is--normal. He's funny, he can be smart, he thinks about girls a lot, he has interests and hobbies. He tries to do the right thing, but doesn't always manage it. He gets mad and confused and sad. He has a believable relationship with his older brother, and his whole family is pretty awesome.
He is, in a word, a nice guy. He's not damaged or broken or a loner.
And, oh my word, he loves
Doctor Who
. I threw up my hands and squeed every time he referenced the Slitheen or defended Rose Tyler or watched "Doomsday" when he felt really sad. Squinch him!
Blake is wonderful, and story he is involved in is no less wonderful. I so much appreciate that this is not a love triangle. His relationships with these two girls are so different that simple explanations can't suffice to describe what goes on. And the ending was completely not what I was expecting, but now that I've read it, I can't imagine it ending any other way.
Flash Burnout
is a fantastic book about a guy navigating growing up with all the relationships and world-expanding that comes with new experiences. I love Blake, and I think he's going to grow up just fine. Especially with his hospital chaplain mother, medical examiner father, and football superstar brother. (I really loved their family, can you tell?)
Five out of five
companion posters.
Release Date: October 2009
Reading Level: Grade 9+
Where In Dunlap Public Library's Collection: LINCOLN