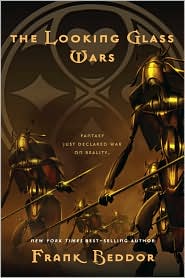 Book Jacket
The Myth: Alice Liddel was an ordinary girl who stepped through the looking glass and entered a fairy-tale world invented by Lewis Carroll in his famous storybook.
The Truth: Wonderland is real. Alyss Heart is the heir to the throne, until her murderous aunt Redd steals the crown and kills Alyss's parents. To escape Redd, Alyss and her bodyguard, Hatter Madigan, must flee to our world through the Pool of Tears. But in the pool Alyss and Hatter are separated. Lost and alone in Victorian London, Alyss is befriended by an aspiring author, to whom she tells the violent, heartbreaking story of her young life. Yet he gets the story all wrong. Hatter Madigan knows the truth only too well, and he is searching every corner of our world to find the lost princess and return her to Wonderland so she may battle Redd for her rightful place as the Queen of Hearts.
Review
I like Carroll's
Alice in Wonderland
all right, but it's not a book I rave over. Beddor's reimagining of Alyss's story, though? Yes, I will rave! Here is a Wonderland with a plot, with drama and tragedy and the coolest ideas. I actually almost believe that Wonderland is a real world, and that Alice Liddel was misunderstood. It's that good.
My favorite part of Wonderland was the fact that imaginations are used as tools. You can imagine things into being, and like my favorite fantasy stories, imagination can be used for either good or evil. It's finding the right way to use your imagination that makes all the difference between Alyss and Redd. That whole concept is summed up really excellently when Alyss goes into the maze; I wanted to underline sections of the book, so enormous and beautiful was the truth Beddor dealt with.
There is an ending to the story, with the possibility for more. I've just ordered the other two books in the trilogy for our library. I have no idea where the story will lead, but, well, that's the fun of a wild imagination! It can lead you anywhere.
Five out of five
Crystal Continuums.
Release Date: September 2006
Reading Level: Grade 5+
Where In Dunlap Public Library's Collection: LINCOLN